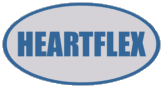 Speed up rehabilitation and improve physical fitness using fun and easy repetitions.
The versatile HeartFlex exerciser utilizes a unique resistance assembly consisting of 18 precision ball-and-socket joints. This design creates the Consistent-Resistance that simulates the frictional resistance of a hand moving through water.
Everyone can benefit from using HeartFlex!
Occupational and Physical Therapy • Breast Cancer Rehabilitation • Diabetic Exercise Programs • Athletes, Coaches and Trainers • Beginning Exercisers • Wheelchair Users and Seniors
Improves Physical Fitness and Health
By combining resistance exercise with repetitions, HeartFlex helps build strong, dense muscle tissue while increasing flexibility and endurance.
Speeds Physical Rehabilitation
HeartFlex targets specific muscles, joints, tendons, and ligaments. Its passive resistance is less likely to re-injure sensitive healing structures (as compared to the "overloading" that may be caused by weights, springs, or rubber bands).
Builds Upper Body Strength
HeartFlex upper body exercises build hand, wrist, forearm, elbow, arm, shoulder, chest, and back strength. HeartFlex® is extremely versatile, allowing exercisers to change their movements in order to isolate specific muscles.
For All Fitness Levels
HeartFlex can be used by beginning exercisers, and added repetitions create an upper body workout that is rigorous enough to challenge even highly conditioned athletes. HeartFlex even transforms walking, one of the best aerobic activities for seniors, into a full body workout.
Boosts Circulation
HeartFlex stimulates the vascular, pulmonary, and lymphatic circulatory systems. Improved circulation helps to naturally remove harmful toxins and lowers blood sugar.
Multiple Applications
HeartFlex strengthens muscles and relieves tension and stress. Because it may be used while seated or lying down, it is ideal for wheelchair exercises, senior fitness, and patients who are recovering from surgeries such as breast cancer.
Enhances Athletic Performance
Combining HeartFlex with walking or stationary bike exercise engages the full body. Anyone active in sports such as golf, tennis, motorcycling, gymnastics, as well as individuals who are rehabilitating will benefit from using HeartFlex.
Convenient for Travel and Easy to Store
The easy-to-use, lightweight, compact design of HeartFlex makes it perfect for home fitness, office exercise, and travel.
Includes instructional DVD demonstrates standard Heartflex exercises, 35 muscle-strengthening movements, and bonus segments focused on walking and golf.
Be The First To Review This Product!
Help other Practitioner Supplies users shop smarter by writing reviews for products you have purchased.
Others Also Bought
More From This Category